How To Install Tarkett?
1. Transport and Storage
• Store all the rolls and boxes in a clean and dry indoor place and free from pollution • Store rolls with 2ml width in upright position and safely secured • Store rolls with dimension above 2ml horizontally • Store tiles flat in their package, piled neatly not more than 5 boxes high, protected from extreme temperature, moist, rust, rot, free from any contamination and do not put under heavy weight. • Store rolls and tiles 48 hours prior installation. • For linoleum, keep the room temperature above 15°c or 18°c during installation. However, do check with your country's rules and temperatures might be different in different countries. • Take out sheets and tiles from the packaging 24 hours prior installation.
2. Handling
• Use only manufacturer's recommended tools and accessories for handling all types of floorcoverings to avoid any damage to the material or people. • Materials must always be checked for any defects or damage before and during installation and report to Tarkett representative. • Install the same batch number and roll/boxes in sequential order for continuous surface • Remember Tarkett does not guarantee any problems caused by inappropriate storage or handling
3. Subfloor Control
• Ensure that your subfloor is in good condition, i.e. flat, clean, free from any debris or residues, no marks (of felt pen or marker or ballpoint pens or paints), dry, solid, hard, smooth. Because the number 1 factor for successful installation is the subfloor quality. • Check the absorbency level and subfloor should not be exposed to humidity. • Always follow your country standard of use for preparation of the subfloor and installation procedures. Solid subfloor's dryness must be below the maximum moisture level allowed. • Use a non-oily pencil for markings.
Subfloor Characteristics
Humidity Rate
• Always refer to regulations in your country (for relative humidity test, calcium carbide system, etc). • It takes approximately 2 weeks per cm for a concrete floor to dry. • Remember, Tarkett does not guarantee any disbanding, bubbles, colour migration caused by excessive humidity rate.
Absorbency – Porosity
• If the absorbency time of a drop of water is less than one minute, then the subfloor is too absorbent, which means you need to apply primer before leveling compound, with 1:1 dilution. • If the absorbency time of a drop of water is more than 10 or fifteen minutes, then the subfloor is non-absorbent, which means you need to apply non-diluted primer. • Trouble might occur in the bond plane duet to longer waiting time of the adhesive in non-absorbent subfloor, while too absorbent subfloor could cause dis-bonding issue due to shorter waiting time of the adhesive.
Planarity / Flatness
• Different country has different ways for measuring. In UK, tolerance must be less than 3mm over 2m for concrete/wood subfloor (and it also depends on localities, SR1 or 2). • Visual issues or additional cost for using more leveling compound could occur if the surface is not flat.
Cracks and Joints
• Cracks: 1.3 to 1mm large. During the concrete drying process by contraction, cracks can appear. • Micro cracks: less than 1.3mm large (almost not visible). • Expansion Joints: used to compensate dimensional variations and building movements. • Isolating joints: separate the screed from other independent building constructions (walls, pillar). • Contraction (dividing) joints: allow free contraction of concrete and avoid cracks during drying. • Construction Joints: used to stop daily pouring of concrete slab.
Notes
• You must treat micro cracks with a primer. • You must cut, clean and fill cracks and construction joints with epoxy resin on which sand will be spread. • You must fill contraction joints with epoxy resin on which sand will be spread. • Treat expansion joint with an inserted or overlapped profile. • Stop levelling compound and floorcovering on both sides. • Fill isolating joints with soft material like polystyrene.
Hardness
• To ensure that your subfloor is resistant enough to compression and indentation, use a sclerometer to measure the hardness of the concrete. • Heavy traffic or weight on subfloor that is not hard enough could cause damage on leveling compound which results in visual/technical defects.
Sound
• To avoid colour migration and any other damage, ensure that the subfloor is free from contaminants like hydrocarbon stains, paints, chemical residues or laitance on the surface.
Clean
• To avoid visual defect/telegraphing effect, ensure that the subfloor is free from any particles, dust, traces of felt pen or marker.
Subfloor types - Preparation
New Subfloor
• Preparation for Concrete/cement base Use water base primer compound and self levelling compound which is adjusted to the level of traffic • Preparation for Wood or wood particles/plywood base It is recommended to use primer compound which can adapt to wood and can be install directly. Alternatively, you can add a special wood fiber levelling compound. Remember to check the thickness and length, any opening, glued groove and tongues caulking of joints and smoothing. • Preparation for Bitumen base Use primer that is emulsified with neoprene vinyl or alternatively use primer + self levelling compound that can adapt to bitumen • Preparation for Anhydrite base (humidity rate < 0.5% CM) Smooth the surface prior applying adapted primer or emulsion. It does not require any screeding • Preparation for Metal Clean the subfloor from any oily residue then apply an anti-rust primer + gluing.
Old Subfloor (Renovation)
Preparation for terrazzo or ceramic tiles: • Ensure that all tiles are still securely fixed to subfloor. • Remove surface coating or sealer by applying emulsified primer and adapted self levelling compound.
Preparation for Wood parquet (glued, not floating): • Ensure that all planks and pieces are solid and well-fixed to subfloor prior applying primer or adapted emulsion and fibre reinforced self levelling compound.
Preparation: • 1st check that all wood planks and pieces are well in place, solid and securely fixed, then apply a primer or wood adapted emulsion + fibre reinforced self levelling compound NOT recommended for HOMOGENEOUS Vinyl Products.
Old Floorcovering
Textile: • Prior to applying an adapted self levelling compound, any textile must be removed and scraped.
Vinyl: • Prior to applying an emulsified primer and adapted self levelling compound, any old flooring must be removed and scraped, especially for heavy duty usage • However, if the old flooring is HO compact vinyl floorings or VCT type that are still in good condition and well-fixed to subfloor and only in small area, it may be possible to install without removing the old floorings. There are two ways to do it: • Prior to installation, do thorough cleaning and degreasing of surface then apply PVC adapted acrylic base adhesive on PVC installation. • Prior to installation, do thorough cleaning and degrasing of surface then apply cement base levelling compound, in accordance to recommendations by manufacturer.
Underfloor heating
• Heating must be stopped at least 48 hours before screeding and installing floorcovering • After installation, restart heating Stop heating at least 48h before screeding and/or floorcovering installation. • Re-start heating gradually (few degrees per day) 48h after installation (few degrees per day). • Vinyl tiles should be hot welded • Maintain the temperature between 18°c to 27°C for installation.
Primer (solvent/water based, PU, Epoxy): • Apply primer with a brush or roller. Consumption can vary between 80 to 120 g/m2, depending on the planarity of the subfloor. • Never apply a leveling compound without applying primer before, otherwise delamination or cracks of the levelling compound may occur.
Materials for Installation
Self-levelling compound: • Cement based compound with smoothing finish for indoor use which will be covered by floorcovering. • Average consumption is 1.5 Kg / 1 mm / m². • Heavy duty = 2-3 mm thickness.
Adhesive: • Ensure you only use adhesive recommended by Tarkett.
Some key points you need to pay attention to: • Check adhesive compatibility with flooring product backing (PVC, PU, jute, etc) • Check the aspect of backing (rough, smooth, fibers, grid, etc) • Check the flooring porosity (textile, jute, etc) • Check the subfloor porosity, whether it is absorbent or not • Check the quality and performance (polyvalence, the consumption, etc).
• For linoleum, use a notched trowel. Ensure you use appropriate type according to the backing. For jute backing, you need  300g/m2 – 350g/m2, using B1 spatula (TKB model). For foam backing, you need  200g/m2 – 300g/m2, using A2 spatula (TKB model).
4. Installation – General Rules
Sheets:
• Install the sheets parallel to incoming light in reasonable square rooms. • Install the sheets along the length of the room in long, narrow rooms. • Joints must be placed at door step • Ensure you place the sheets with the right layout. • Draw a reference line and align the sheet edge to reference line. • Cut sections of flooring to required length, adding a few centimeters. • To install, first you either half fold or roll the sheets in all sections and then spread the adhesive using the right spatula. Make sure you don't over glue or let space without adhesive. • Fold back the sheet in first section into the adhesive while pressing it using the cork press to get rid of air bubble under the sheets • Repeat for the rest of sections and the second half of the folded/rolled sheets. • After you done gluing and pressing all sheets, trim any excess of materials close to walls and obstacle, using either knife or hook and concave blades (freehand cut) • After that, press all floors using heavy roller (min 50kg) to ensure the floors are well secured.
Tiles:
• First measure the room the installation is about to commence • Draw the reference axes to determine the layout. You will work per section (quarter) that has been divided by the axes • You can shift the reference line when needed (example when cut off is too short) • Start working in the 1st quarter by applying the appropriate adhesive to the first section, using the right tool • Place the tile in below sequence: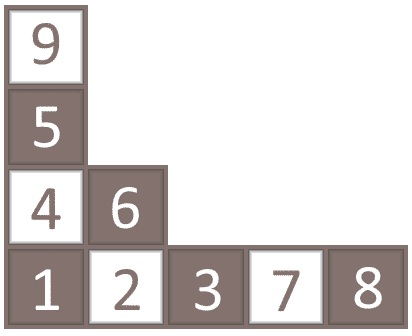 For diagonal installation, follow the picture below:
• When installation in a quarter is done, start scribing excessive materials. • Continue with the rest of the quarters and then press the whole installation using heavy roller (min. 50kg) to ensure the floorings is securely fixed.
Joints Welding:
• You could either do hot welding (suitable for all types of flooring) or wet welding (suitable for PVC HE only).
Hot Welding:
• First groove the materials appropriately. • Make sure the deepness is 2/3 of the thickness for compact, till foam for acoustic and till jute for linoleum with max 2.5mm. • Use hot speed nozzle, with exception for linoleum you use open nozzle. • Keep the temperature between 350 – 400°C for hot speed nozzle and 500 – 550°C for open nozzle, with speed of ± 2ml/min. • The trimming guide is 0.5 for compact and 0.7 for acoustic.
Cold Welding:
• Must be done min 24 hours after installation. • Ensure you get the potential pattern match by overlapping the 2 sheets. • Double cut the overlapping in one or two steps, in case of a think flooring alongside a metal ruler. Ensure the end result is an extremely tight joint. • Apply a special masking tape. Make sure you put in the center over the cut seam. • With a rolling knife, cut the masking tape within the seam prior to applying the cold-welding liquid by pressing the needle deeply into the seam. • Ensure you apply enough cold-welding liquid along the joint. • Remove the masking tape carefully backwards after the cold-welding liquid is dry (approximately after 10 minutes). • Do not walk on the seam 24 hour after cold-welding.
5. After installation, there are few points you need to remember:
• Always check for any adhesive marks, stains and dust and clean them all. • Protect the area to prevent soiling. • Do not expose the area to any traffic 48 hours after installation. For furnitures, move them only after 72 hours.
For further information, about Tarkett follow the link below to their website:
Tarkett